An Ironman triathlon is one of the most challenging events on the face of the earth. Few other athletic feats cover this kind of distance, let alone using three modes of transportation. You need to be more than just a good swimmer, cyclist, or runner to be successful in an Ironman triathlon.
In addition to the training, nutrition, and mental fortitude, you also need a good pacing strategy for a successful Ironman. Without a pacing strategy, there is a 99.9% chance that you will blow up. And in an event this long, there's no coming back from a complete blowout.
In this article, we're going to show you how to use our Ironman Triathlon Pacing Strategy Calculator. This will help you outline a race day strategy to set you up for a PR.
We've covered other triathlon distances in a separate article which you can find linked below; these include sprints, Olympic distance tri, half Ironman triathlons, and Ironman. You can also use these calculators to dial in your pace guidelines for your next race such as a 10km run, cycling Gran Fondo, or short duathlon.
Here is what we're going to cover in the rest of this article:
STEP 1: Plug Your Numbers into the Ironman Triathlon Pacing Strategy Calculator
Use our free calculators below to get your running pace, and cycling power ranges you'll use for training.
In the running race pace calculator, you will be using a recent race time. If you haven't done a race in the last four months, you can perform a 3km max effort to get your running race pace. The 3km time trial can be done during any rest week, where you can easily substitute it for a hard workout.
Running Race Pace Calculator
Enter a recent race time you've done.
Bike Racing Power Calculator
To get your cycling power targets: enter your FTP (functional threshold power) in the triathlon calculator. If you don't know your FTP number check out this article which will help you figure it out.
TL;DR – FTP is the theoretical amount of power you can hold for an hour and the measurement that guides us into our training zones. For more on this topic, check out our post: Triathlon Bike Training: What is a Training Zone?
In this calculator, you will find a wide variety of ranges for different events and distances. We'll be focusing on the Ironman distance in this article.
Triathlon Calculator Caveat:
This calculator will create guidelines for any multisport race distance you want. We'll be focusing on the Ironman distance in this article.
To achieve your best Ironman triathlon performance and be in the best form possible, use the remaining steps to help nail down your ideal finish time.
STEP 2: Incorporate "Race Pace" efforts into your Triathlon Training Plan
There are a lot of coaches and plans that will stop at Step 1.
It's a simple but misguided thought, but it often leads to underperformances on race day because race day conditions differ significantly from those tests. When you begin the bike leg you'll be fatigued from the swim, and when you begin the run leg of an Ironman you'll be very tired from both the swim and bike.
Using the numbers from Step 1 as our starting point, we can start dialing our race pace in training. Not only do you want to know your numbers, but you also want to know what race pace feels like. This will help you stick to your race pace strategy if something happens on race day. For example, your power meter could fail, your heart rate monitor might stop working, or it could be much hotter than expected.
Once you learn what race pace feels like through training you can confidently adjust your effort on race day.
During the final three months before your race, you should have one race-specific workout in your weekly training plan. Don't have a training plan? Check out ours here.
In these race-specific workouts, you should perform longer and longer bike intervals at and slightly above the race pace. After this race-specific bike, you should perform a brick run at and above race pace.
During these race-specific training sessions, you should pay attention to more than just the numbers. In addition to your power readings or your running pace, pay attention to how these efforts feel. Use perceived exertion to measure these efforts.
Rate of perceived exertion, or RPE, is your objective feeling of how hard you're working on a scale of 1 to 10, with ten being as hard as you can go. In the following steps, we'll tell you the exact RPE you should target in each Ironman triathlon leg.
Pay attention to both your numbers and perceived exertion in training. You'll develop your pacing strategy in the months leading up to the race.
Example race-specific brick workout for an Ironman training plan:
30mins easy ride warm up
3x30mins at 5% above target race power with 10mins easy spin between
10mins easy cooldown spin
30mins brick run with the first 15mins slightly above target running race pace
STEP 3: Dial in Your Ideal Triathlon Race Pace
Now we're getting close to pinpointing your best possible Ironman triathlon race pace. As you're performing your workouts in Step 2, week by week, you'll want to reflect on how your speeds feel and adjust accordingly.
Did your brick run feel too hard? Try lowering your target bike power next week.
If your brick run felt too easy, try pushing harder on the bike next week or slightly increasing the run pace.
Did you start the run feeling good but hit a wall halfway through? Next week, try lowering your target brick run pace.
The numbers from the Ironman Triathlon Pacing Strategy Calculator are not set in stone. Listen to your body and let your perceived exertion guide you in adjusting your race pace. Over three months, you will have had more than ten race day training sessions to help perfect your effort for race day.
Once you've got your race pace dialed in, note the specific bike power and running pace you were able to maintain. Note down your heart rates and RPE scores from those race pace intervals.
Now you are dialed in – you know your race pace, power, heart rate, and perceived exertion for the bike and run legs. But what about the swim? We'll get to that in a second.
STEP 4: Execute Your Triathlon
Today is the day – all your hard work and dedication will pay off. But it's not as simple as holding the numbers you established in your training. There is quite a lot that can happen on race day and a whole set of variables that could require you to adjust your race pace targets.
If you've nailed your triathlon training plan, your race pace could feel too easy on race day. With excellent training and a proper taper, you should be peaking on race day, which means you are stronger than ever. You may even need to up your race pace targets.
Conversely, you could feel horrible on race day. Maybe you got sick two weeks before the race, missed some crucial training sessions, or it is a hot day. All of these factors can hurt your race-day performance.
One study found that ideal race conditions occurred when temperatures were between 7.5-15 degrees Celsius (45.5-59 degrees Fahrenheit). For every degree Celsius away from these perfect temperatures, performances would suffer an average of 0.3%–0.4%. So if you trained in cooler temperatures and race day is hot, you may have to lower your race pace targets.
Here's how to execute your best possible race given the unpredictable nature of race day:
Swim by Rate of Perceived Exertion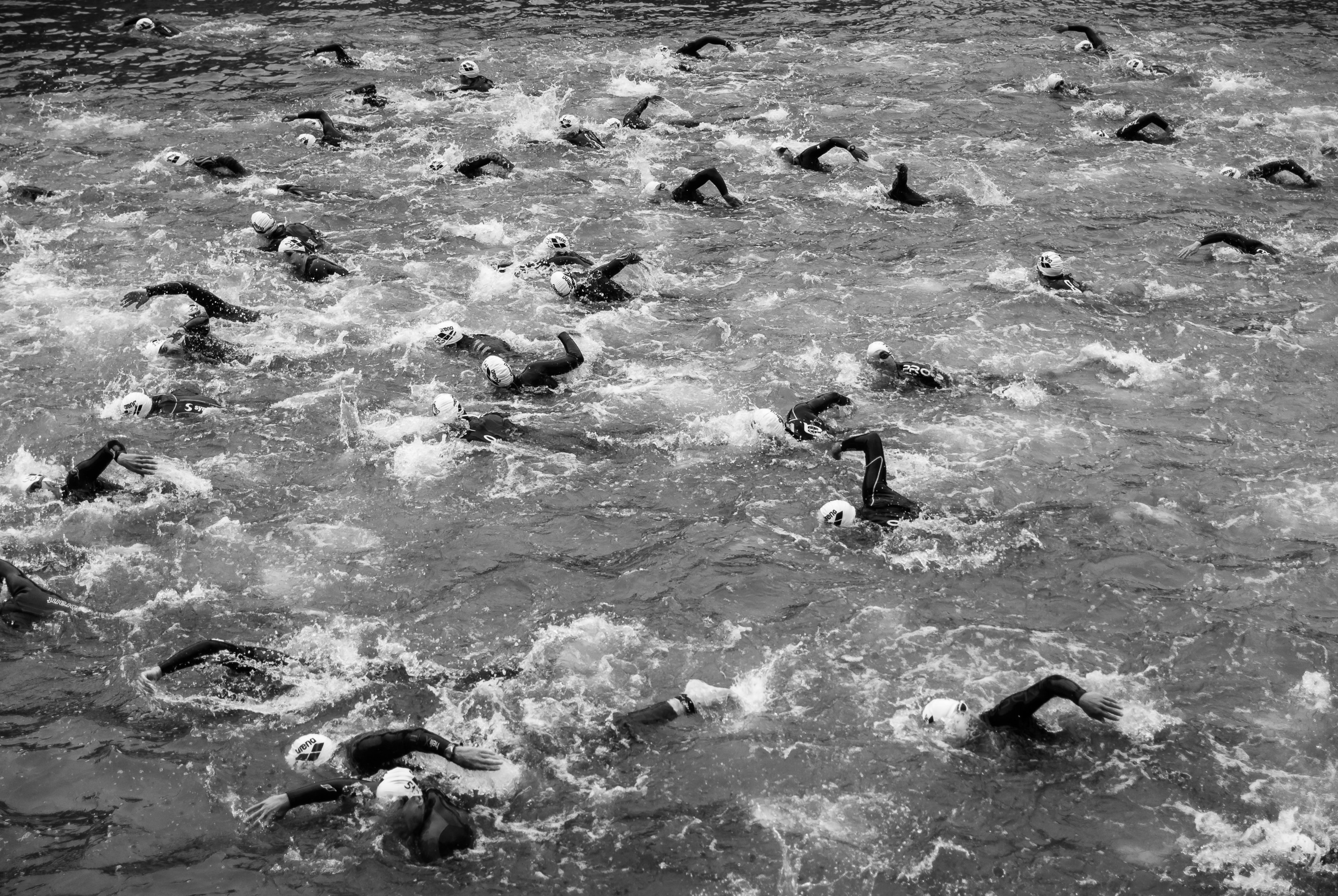 An Ironman swim should feel easy, very easy. Some say that the swim leg is just mandatory transportation to the start of the actual race, and it's easy to see why. The swim is by far the shortest leg of an Ironman triathlon, and it also comes first. That means that you enter the swim with zero fatigue, and you might get to do the entire effort in the drafting wake of a pack.
Treat the swim as the warm up to the rest of the race. You won't win the race in the swim, but you can certainly lose it if you burn yourself out.
It's also worth noting that fast swimming is more about form than perceived effort. Working harder won't help you go faster – every swimmer has their maximum speed. So it's best to hold back in the swim and save your energy for the much harder and longer bike and run legs.
During the swim leg of the Ironman, you're going to use perceived exertion to pace yourself. You should be at a 4-5 on the RPE scale during the swim portion, which means that you are really holding yourself back. Remember, there's a long way to go.
When in doubt, hold back in the swim, way back!
Bike by Power, Then RPE, Then Heart Rate
The first half of the Ironman bike leg should feel easy. You still have many hours to go, so it's important to pay attention to how you're feeling.
When you first start out on the bike, gradually build up to your target race power. Hopefully, the swim has gotten you warmed up, but it still may take you a few miles to feel comfortable on the bike. While building your power, pay close attention to how your target feels.
During the bike leg, you should be at a 6 out of 10 on the RPE scale. This is an effort that certainly feels hard, but you can sustain it for a very long time. Remember, there is still a marathon to go.
Pay attention to your heart rate as you are building towards your target power. Check in often and see how it relates to the target heart rate that you established in Step 3. If something feels off, now is the time to adjust.
If your heart rate is low and your target power feels easy, then you can gradually increase your target power on the bike. Going the other way, if your heart rate is high and the target power seems quite hard, then it's time to back off the power a bit.
On the bike, you should first be using your target power and then your RPE to pace your effort. Once those metrics match up, pay attention to your HR to make sure that is in line as well. The goal is not to ride as fast as you can, but to once your effort so that you get off the bike feeling good and ready to run a marathon.
Run by Pace, Then RPE, Then HR
Approach the run the same way that you did the bike – start slowly and gradually build towards your race pace. While you're doing this, check in with your RPE and then your HR to see how everything feels.
You will certainly feel fatigued in the first half marathon, but the goal here is to approach your race pace and hold it. Do not go out hard in the first half of the run. Use perceived exertion to help guide your effort as you approach race pace.
During the run portion of your Ironman, you should still be pacing your effort at a 6 out of 10 on the RPE scale. You really do want to hold back here, because if you go too hard, that's when you hit the wall.
In the first half marathon, you have to control your pace and trust the process. Of course, this is a race and there will be lots of other athletes around you, but this is when it's crucial to stick to your pacing strategy.
As you approach the halfway point of the run leg, you still have a half marathon to go. Stick to your target race pace as long as your RPE and HR match up. If the pace feels too hard or your HR is too high, then back off the pace. But if the pace doesn't feel too hard and your heart rate is low, then you can gradually lift the pace.
There is never a time in an Ironman besides the final 100 meters when you should be in a full-on sprint. But if you've paced your Ironman effort correctly, there won't be much energy left in the tank, and maintaining your pace will be the best you can do.
Do not fear if you cannot gradually increase your pace during the marathon. The fastest triathletes and runners always do a positive split – that is, starting out fast and gradually dropping their pace through the end of the race. The best athletes hardly slow down, and that should be your true aim in your marathon pacing.
STEP 5 BONUS: The Quarters Pacing Strategy
What we've alluded to above is reminiscent of the Quarters Pacing Strategy. This is a pacing strategy that breaks the race down into four equal quarters – and the end result may surprise you.
The goal of the Quarters Pacing Strategy is to conserve as much energy as possible at the beginning of your race. If done correctly, you'll be saving your best for last and finishing with the fastest time possible.
Breaking the race into quarters:
1st quarter: save energy by swimming much easier than you are capable of (RPE 4-5)
2nd quarter: use the first half of the bike to gradually build up to race pace (RPE 5)
3rd quarter: use the second half of the bike and the first half of the run to hold race pace at a good intensity (RPE 6)
4th quarter: if you've held back at the start of the race, you should have the energy to fight and dig deep to maintain your pace in this final quarter of the race (RPE 6+)
Notice: the 4th quarter is the only time you should really be pushing. Before that, you are conserving energy and gradually building towards your race pace.
You can also break the bike and run into quarters:
1st quarter: gradually built up to target race pace and power (RPE 5)
2nd quarter: bike/run at target race pace. Check-in with RPE and HR (RPE 5-6)
3rd quarter: continue at or slightly above race pace. Keep checking in with RPE and HR (RPE 6)
4th quarter:
Bike: slightly reduce your power and RPE to set yourself up for a great run (RPE 6+)
Run: dig deep and give it everything you've got! (RPE 6+)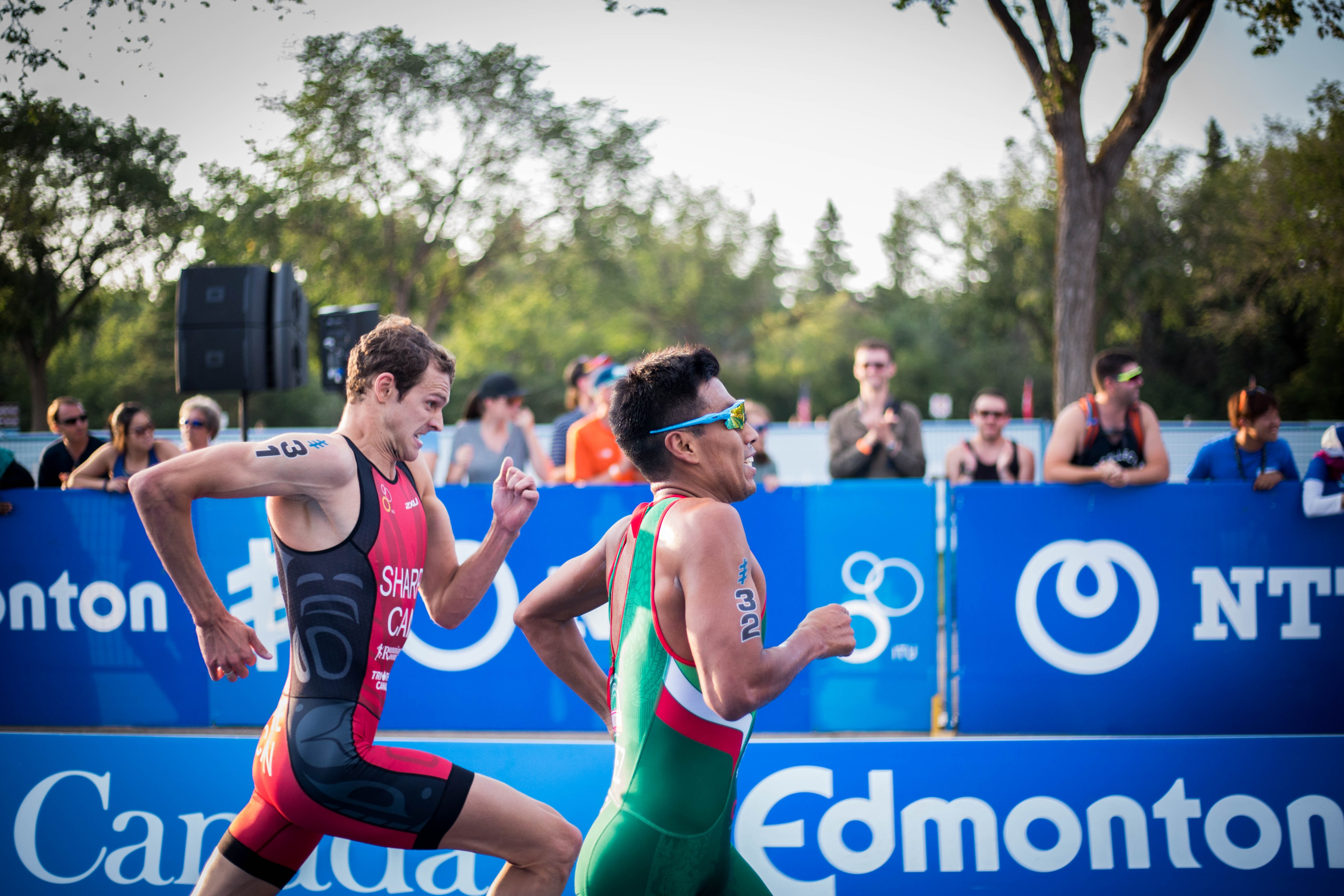 Conclusion
"An Ironman is like doing an 8-hour warm up and then 2 hours of hell."
That is one way of putting into words the pacing strategy of an Ironman. But with our Ironman Triathlon Pacing Strategy, you can convert those words into numbers. Here, you can find a pacing strategy that you know and trust, and numbers to stick to through the swim, bike, and run.
On race day, there are going to be lots of distractions that could pull you away from your pacing strategy. But in an event this long, it is absolutely crucial to stick to your Ironman triathlon pacing strategy.
It can also be said that you shouldn't feel like you're in a race until the last 17km or 10.5 miles. Up to that point, you should have kept your effort reined in. If you're racing during the swim leg, you've gone out way too hard.
Use our Ironman Triathlon Pacing Strategy Calculator and related Triathlon Pacing Strategy to nail down your Ironman race day. Remember to listen to your body as much as you glance at the numbers, and practice training at race pace to dial your efforts in. Now you're ready for race day success!
Sources